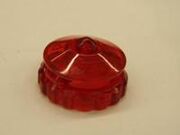 Informations
Around Sharp (AS) is a Sharp Performance Tip with a free spinning bowl-like ring surrounding it. For Stamina and Defense, it has good Stamina and the bowl helps it to regain its Balance. It resembles Wide Defense but the tip performs as Sharp. Wide Defense is still an overall better choice for Stamina (only by half a sec.). It is somewhat the opposite of Eternal Wide Defense (EWD) but does not have balance issues like ES, S, MS, BS, etc. It is similar to the B:D peformance tip from Phantom Orion.
Attack: 0 - Defense: 4.5 - Stamina: 5
Uses
Ad blocker interference detected!
Wikia is a free-to-use site that makes money from advertising. We have a modified experience for viewers using ad blockers

Wikia is not accessible if you've made further modifications. Remove the custom ad blocker rule(s) and the page will load as expected.