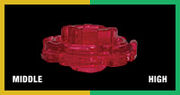 CH120 is unique as it features a height-changing gimmick. The user is allowed a choice of using 120 or 145 as the Track's height. This is done by rotating the bottom portion of the Track and pulling/pushing the central part out/in, and then rotating the bottom portion back to lock the height. Importantly, this can be done between each round of a match, as it does not involve any part-swapping. The advantages of this Track are plentiful. Its most obvious benefit is allowing the user to change the height of their Beyblade between rounds; this means that the user can adapt their strategy to counter the opponents during a match. CH120 is currently the only Track featuring a 120 height. This height is useful for many Attack types. T125 or D125 can be used as an alternative if you don't have CH120, but they're not as good.When you change height, at one point you will get medium height. Keep it there, and then screw in the Face Bolt as much as you can without breaking it. The height should tighten and stay as it was. This works only with CH120 and TH170.
Attack: 0- Defense: 0- Stamina: 2
Users
Ad blocker interference detected!
Wikia is a free-to-use site that makes money from advertising. We have a modified experience for viewers using ad blockers

Wikia is not accessible if you've made further modifications. Remove the custom ad blocker rule(s) and the page will load as expected.