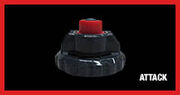 Informations
Coat Sharp is more like Rubber Flat Sharp or a variation of Rubber Flat, but with a Sharp tip coated in rubber hence the name, "Coat" Sharp. It is greatly chosen in Attack and Defense-Type combinations when launched, the Coat Sharp will have limited movement due to the Sharp tip, however, if it gets knocked off balance, it will act as a Rubber Flat and provide fast and chaotic movement. It usually spins in the middle of a stadium on stadiums like Burning FireStrike and Bolt Blast. If used with a String Launcher, the Coat Sharp will move aggressively like a Rubber Flat but act as a Defense-Tip later due to the Sharp tip. Due to this, it is similar to the mechanism in Final Survive. Once it's attack power wears out, it's really stamina too. Overall, Coat Sharp is a great Tip for Attack and Defense combinations and resembles a grey Rubber Flat but with a grey Sharp tip in the center of the red rubber. It is recommended to have multiple CS's because after the rubber wears out, it will not have much of an aggressive movement.
Customizations
Attack: 4 - Defense: 0 - Stamina: 3
MF Lightning L-Drago BD145CS (Attack)
MF Quetzacoatl CH120CS (Attack)
MF-H Basalt (Twisted) Aquario BD145CS (Defense)
MF-H Basalt Kerbecs BD145CS (Defense)
MF Hell (Hades) Bull/Kerbecs BD145CS (Balance)
Uses
Ad blocker interference detected!
Wikia is a free-to-use site that makes money from advertising. We have a modified experience for viewers using ad blockers

Wikia is not accessible if you've made further modifications. Remove the custom ad blocker rule(s) and the page will load as expected.