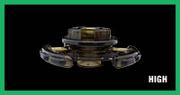 ED145 features three "wings" which rotate around the Track freely. The wings are similar to that of WD145. Because of their free-spinning nature, they can be used in Defense customisations, however, the defensive capabilities of this part are not as effective as C145, as it does not absorb hits as successfully. The wings which rotate are hindered without the mechanism of a bearing, hence creating a force of friction in the body of the Track, in turn resulting in less significant damage absorption. Furthermore, it is easy for the low attacker's Wheel to be caught between the Wheel and ED145, hence causing a lot of recoil and spin reduction to the Defense customization. The free-spinning piece may be removed and interchanged with WA130, creating ED130 and WA145, but this is illegal and not allowed in tournaments.
Attack: 0- Defense: 2- Stamina: 2
Users
Ad blocker interference detected!
Wikia is a free-to-use site that makes money from advertising. We have a modified experience for viewers using ad blockers

Wikia is not accessible if you've made further modifications. Remove the custom ad blocker rule(s) and the page will load as expected.