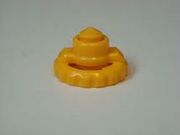 ES is a Stamina type Performance Tip that weighs 1 gram. It was one of the most highly anticipated Tips in all of Beyblade, but was a major letdown as there is friction in between the free-spinning shaft and the rest of the tip, and it has terrible balance dut ot its fine point and height. That being said, it still outclasses BS and S in terms of Stamina. It was first seen in Wave 2 with Flame Libra.
Beyblades with this part
Earth Gasher
Samurai Saramanda
Shinobi Orojya
Ad blocker interference detected!
Wikia is a free-to-use site that makes money from advertising. We have a modified experience for viewers using ad blockers

Wikia is not accessible if you've made further modifications. Remove the custom ad blocker rule(s) and the page will load as expected.