Gan Gan Galaxy Utimate Gift Set is a product released in Wave 6. It is a set that contains the Beyblades used by Gan Gan Galaxy, and other blader gear
Contents
Recolored Galaxy Pegasus
Recolored Ray Unicorno
Recolored Earth Eagle
Recolored Flame Libra
2 Light Launchers with Ripcords
2 Launcher Grips
4 DNA Codes
4 sticker sheets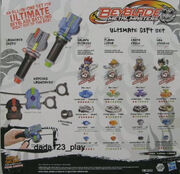 Trivia
For some reason, Cyber Pegasus stickers are supposed to be put on Galaxy Pegasus.
Since the ripcords are pre straightened, they are more prone to breakadge.
It is unknown whethere more team sets will be released.
Ad blocker interference detected!
Wikia is a free-to-use site that makes money from advertising. We have a modified experience for viewers using ad blockers

Wikia is not accessible if you've made further modifications. Remove the custom ad blocker rule(s) and the page will load as expected.