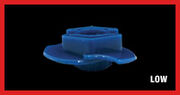 LW105 has 3 small wings protruding from its circumference opposite to W105 which has 2 wings facing to the right. These are facing diagonally downwards in the left spin direction, in order to stabilize the Beyblade in which it is being used. However, this effect remains negligible, and LW105 has found no competitive usage, apart from being used as a regular 105 Track. It is the opposite of DF105/W105/T125/DF145.
Attack: 1 - Defense: 1 - Stamina: 0
Users
Ad blocker interference detected!
Wikia is a free-to-use site that makes money from advertising. We have a modified experience for viewers using ad blockers

Wikia is not accessible if you've made further modifications. Remove the custom ad blocker rule(s) and the page will load as expected.