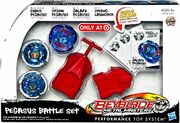 Pegasus Battle Set is a pack that is the "evolution pack" of Pegasus. It was released in Wave 5 and is only available at Target.
Contents
Storm Pegasus
Galaxy Pegasus
Cyber Pegasus
1 Light Launcher
1 String Launcher
3 DNA codes
Trivia
For a more accurate set, it would have included Big Bang Pegasus instead of Cyber Pegasus, since Galaxy evolves into Big Bang and not Cyber, but this is because Big Bang Pegasus was not released at that time.
Ad blocker interference detected!
Wikia is a free-to-use site that makes money from advertising. We have a modified experience for viewers using ad blockers

Wikia is not accessible if you've made further modifications. Remove the custom ad blocker rule(s) and the page will load as expected.