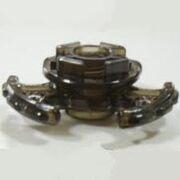 WD145 is a Spin Track that is 14.5 millimeters tall and weighs 3.6 grams. It is similar to
ED145
, and was probably based off of it, except that its hooks do not spin and have a shorter range. WD145 is outclassed by ED145 as the stability of the hooks will strike the floor of the stadium and immediately stop the bey from spinning and also because ED145 wieghs more.
Users
Ad blocker interference detected!
Wikia is a free-to-use site that makes money from advertising. We have a modified experience for viewers using ad blockers

Wikia is not accessible if you've made further modifications. Remove the custom ad blocker rule(s) and the page will load as expected.