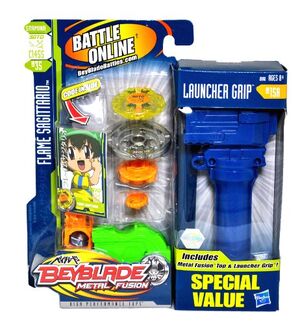 Wave 1 was a release of several Beyblade sets at once, and it was the first wave released for Metal Fight/Metal Fusion.
Beyblades
Storm Pegasus
Rock Leone
Dark Wolf
Dark Bull
Rock Aries
Dark Cancer
Storm Aquario
Flame Sagittario(sold with a launcher grip)
Blader Gear
Launcher Grip(Blue)
Assembly Chamber
String Launcer(Orange)
Face off Sets
Tornado Wing
Lion Gale Force Wall
Flame Claw
Darkness Howling Blazer
Red Horn Uppercut
Stadiums
Pegasus Thunder Whip (Yellow/Blue)
Portable Stadium
Ad blocker interference detected!
Wikia is a free-to-use site that makes money from advertising. We have a modified experience for viewers using ad blockers

Wikia is not accessible if you've made further modifications. Remove the custom ad blocker rule(s) and the page will load as expected.