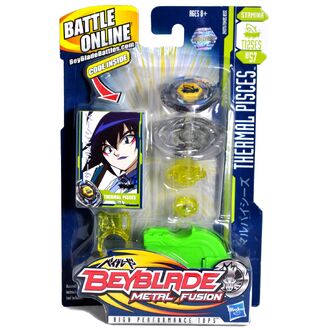 Wave 3 is the third release of Metal Fight/Metal Fusion Beyblade tops and accessories. it was released November/December 2010.
Beyblades
Poison Serpent
Earth Virgo
Rock Scorpio
Burn Phoenix
Thermal Pisces
Rock Scorpio(tournament set)
Blader Gear
Wind and Shoot Launcher
String Launcher (Metallic Red/Gold)
Double Launcher(Comes with Earth Virgo and Storm Capricorn)only at Wal-Mart
Face Off Sets
Spiral Blitz
Burning Firestrike
Stadiums
Maximum Stampede (Red-Orange)
Burning Firestrike(Orange)
Ad blocker interference detected!
Wikia is a free-to-use site that makes money from advertising. We have a modified experience for viewers using ad blockers

Wikia is not accessible if you've made further modifications. Remove the custom ad blocker rule(s) and the page will load as expected.